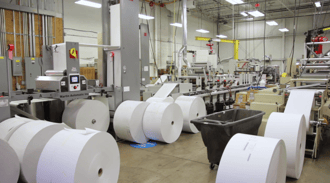 With technology growing leaps and bounds in today's age, manufacturing becomes more and more dependent on such technology for everyday tasks. As outlined in IndustryWeek, increased connectivity and the use of big data are driving waves of manufacturing innovation. Printing and converting are no strangers to this trend. But as manufacturing becomes more dependent on the Industrial Internet of Things (IIoT), it also becomes more vulnerable. Old risks such as natural disasters and machinery breakages are now supplemented with new risks from hacking and grid downtime. As we saw just last week, one typo in a service provider like Amazon's AWS can bring down hundreds of connected services.
So as someone who depends on suppliers for quick and reliable turnaround and delivery, what can you do to protect yourself in the new world of IIoT? The answer is easy: make sure your provider is prepared for any type of disaster. There are three main categories you should ensure your thermal label supplier is prepared for:
Natural Disasters
Natural disasters can be some of the most devastating, as they are often unpredictable and always uncontrollable. While companies can take steps to reverse hacks, it's impossible to redirect or reverse a tornado! Fortunately, manufacturers can implement several safeguards and processes to mitigate the impact these disasters can have on their production. This includes holding safety stock in secondary locations, owning and/or leasing multiple plants in different locales, signing reciprocated manufacturing agreements, and maintaining raw material backup inventory. For printers, it is also imperative to have a top-of-the-line fire alarm and suppression systems in place.


IT and Grid Downtime
Technology and the internet are quickly changing the face of manufacturing, and thus introducing new threats to production. Thermal label suppliers are not immune to these, becoming more dependent on connectivity to run presses and communication throughout the entire supply chain process. Converters keeping ahead of these risks are able to implement safeguards, utilizing cloud backups, mirrored server structure, and even investing in third-party services that provide computers, phones, electricity and internet in the case of a severe outage.


Security Threats
While technical and natural disasters typically have more widespread impacts on manufacturing, a physical security threat to a building can be just as serious. Companies who recognize this type of threat implement multiple levels of security, for both the safety of their employees and their operations. Examples include CCTV, pass card/fob entry, limited guest access, outdoor and emergency lighting and security alarms and official procedures. Regular drills are also important. Third-party services, as mentioned previously, can also provide backup technology and even mobile office locations in the case of long-term events.
Whether you're evaluating a new or existing thermal label converter, don't forget to consider their levels of emergency preparedness. Thinking of these factors now could save your company countless hours and significant amounts of money in the future.
Want to know how well OMNI Systems is prepared? Contact us to find out.