Adam DeFrancesco is the CEO, President, and Founder of OMNI Systems™. Adam founded OMNI in January of 1989. Still going strong after almost 25 years, OMNI Systems™ is one of the fastest-growing privately held commercial printers in North America.
Adam has built OMNI on the principles of:
High Volume, Low Overhead
High Quality, Low Cost
Top-Notch Customer Service & Support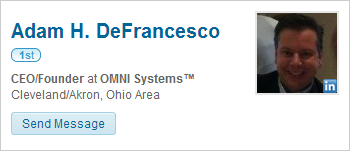 Education
Adam attended John Carroll University in Cleveland, Ohio. He also attended Case Western University—the Weatherhead School of Management.
OMNI Systems™
After a series of entrepreneurial enterprises, Adam founded OMNI Systems™. As the President and CEO, Adam is involved in the day-to-day operations of OMNI, along with managing strategic planning and business development.
He creates annual operating plans and develops strategies for long-term financial growth. Adam develops leadership within the organization and promotes a culture that fosters good performance and high productivity.
From evaluating performance to on-site visits to different facilities, Adam keeps his company on track. As the company evolves, it remains true to its mission of providing the best labels and tags at the lowest prices, along with exceptional customer service.
Today, OMNI Systems™ is the leading provider of thermal labels in North America.
Charity & Philanthropy
Adam is actively involved in a variety of philanthropic charities and events. He believes in giving back to the community and working to help improve others' lives.
He is regularly involved with organizations such as:
Medicine Institute Leadership Board of the Cleveland Clinic
John Phillips, M.D. Society, Cleveland Clinic
Benefactor Society, University Hospitals of Cleveland
Social Action Committee on Hunger Through Temple Israel Ner Tamid (TINT)
At University Hospitals, Adam is a benefactor of the new, state-of-the-art Neonatal Intensive Care Unit.

With the Social Action Committee on Hunger through Temple Israel Ner Tamid, he donated 23 tons of high-quality frozen chicken to area food banks.
Fitness and Family
In his free time, you can find Adam on the tennis or squash court. He loves attending large meals with family and friends, and is committed to Sunday sit-down dinners with his family.
Do you have any questions for our CEO Adam? Submit a comment!