We're excited to announce that our own Director of Business Development, Nimitt Adhvaryu was recently honored with a Distinguished Marketing and Sales Award (DMSA). Sponsored by the Sales and Marketing Executives of Cleveland (SME), the DMSA is the profession's premier honor to acknowledge excellence and provide community recognition for outstanding sales and marketing achievements. Selection criteria is based on the demonstration of the highest business, professional and ethical standards.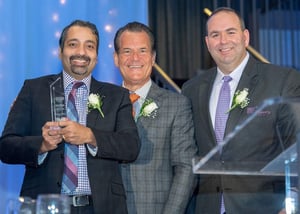 This award recognizes Nimitt's many contributions to our sales team. Since starting at OMNI in 2007, he remains consistently committed to leading the sales team in acquiring and achieving new and organic revenues. He serves as a mentor to both new and veteran business development representatives. One of his biggest contributions has been the improvement of OMNI's sales technology with the implementation of a centralized ERP system.
Nimitt's exemplary business development skills have made him the only OMNI sales representative to achieve over $10M in revenues. His individual sales grew 38% over 2017 and he has also achieved the unique success of billing $2M in one month.
Aside from his work at OMNI, Nimitt has developed strong community roots by volunteering in his children's elementary schools and supporting greater community building initiatives. Please join us in congratulating him on this prestigious award and his many contributions to OMNI Systems.