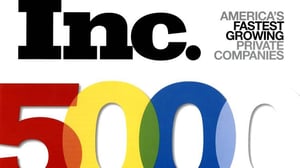 We are proud to announce that OMNI Systems has once again been recognized on the Inc. 5000 list of the country's fastest-growing private companies. The exclusive list honors companies based on their percentage revenue growth over a four-year period. The list "honor[s] just one thing: real achievement by a founder or a team of founders," says Eric Schurenberg, editor in chief of Inc. Magazine, "No one makes the Inc. 5000 without building something great."
At OMNI, we're dedicated to sourcing high-quality materials and, with our buying power, providing the lowest costs. Not only that, but we consistently work to incorporate new innovations so that we can provide greater efficiency and better service for all of our customers. Because of that, we've been able to achieve double digit percentage revenue growth since our founding in 1990 and be recognized with such an elite group of entrepreneurs.
"We're proud that this is our sixth time receiving the Inc. 5000 recognition," says Adam DeFrancesco, founder and CEO of OMNI Systems, "Our ongoing commitment to innovation and growth has allowed us to continue our mission to provide the highest quality thermal label solutions at the lowest prices."
In addition to being recognized by Inc, OMNI Systems has been previously awarded an Ernst & Young Entrepreneur of the Year Award for Manufacturing and Distribution and recognized on Printing Impressions Magazine PI-400 list for top US printers.
Want to know more about how our thermal label solutions can help save you time and money? Contact us today >