OMNI is proud to be recognized by Smart Business magazine as a Customer Service Award winner for 2018.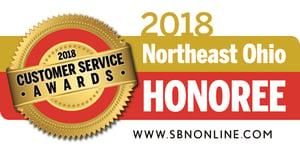 Service is one of the three core tenets of OMNI's mission: price, quality and service. We work with customers to ensure they have the right products exactly when they need them, offering fast turnaround and expert service. Each account has a dedicated, experienced account representative as well as access to our customer service team. Our service doesn't stop after the purchase, as we offer our customers access to a nationwide network of certified technicians.
Our low scrap rate (less than 1%) and 80% run efficiency have helped us to achieve profitability and revenue growth all while maintaining 98% fill rates. These accomplishments would not be possible without the help of the steps we've taken to provide outstanding customer service. In fact, high fill rates are a key customer satisfaction metric we track over time. Additionally, OMNI tracks other quality control metrics for our customers, including an overall 99% defect-free rate.
OMNI Systems™ provides barcode label solutions across a variety of industries for companies of any size. We have worked with a number of top companies in their respective markets for many years. OMNI's impressive base of blue-chip customers continues to grow as does our reputation for price, quality and service.
Contact us to learn more about OMNI or get a quote.