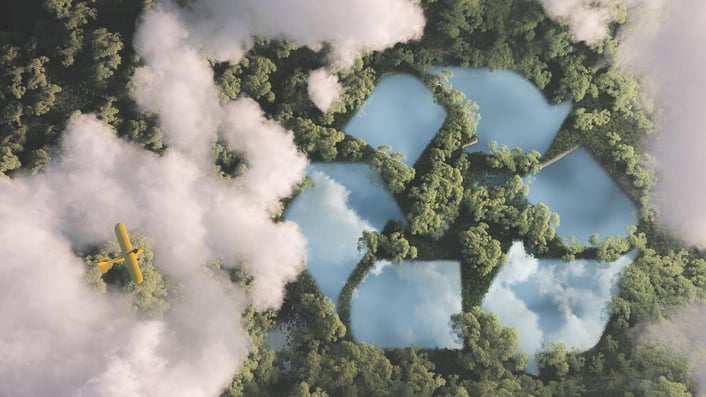 The tides are changing: consumers are demanding sustainability and suppliers are urgently looking for innovative solutions to meet the rising call. Global corporate giants, such as McDonald's, are pledging to make their packaging fully recyclable by 2025. There is no doubt about which way the tides are moving and the question remains: are you setup to meet customer's changing requirements towards sustainability?
As the world continues to push towards thinking about products beyond the point of use, OMNI is empowering our customers to create long-term changes by providing innovative, eco-friendly solutions; resulting in reduced consumption of natural materials and fulfilling the ever-growing sustainable demand.
Beyond OMNI's recycling programs, OMNI's suppliers are FSC-certified (Forest Stewardship Council) and Chain of Custody Forest Stewardship Council® certified. FSC certification ensures that products come from responsibly managed forests that provide environmental, social and economic benefits.
FSC Chain-of-Custody certification traces the path of products, from forests through the supply chain, ensuring the consumer that the FSC-certified products they purchase are coming from responsibly managed sources.
Over the last 12-months, OMNI has procured 99.83% of its face stock volume on FSC (Forest Stewardship Council) certified papers from our suppliers; ensuring that trees are sustainably harvested. Furthermore, OMNI has procured 99.93% of its adhesive volume with adhesives that meet TLMI Recycling Protocol for paper and/or film products.
The majority of the release liner used in the products purchased from OMNI are also FSC-certified. OMNI offers label stocks that received The Association of Plastic Recycling's Critical Guidance Recognition for recyclability on PET containers. A number of our materials have passed the Critical Guidance tests for recyclability with HDPE containers.
OMNI Systems is proud to exclusively use EcoSmart™ environmentally friendly certified ink products in the production of all our thermal label products. Our inks are certified to: Contain no more than 2 percent VOCs based on EPA Test Method 24, as calculated from accumulated data on the ingredients contained in the product; Contain no more than 1% by weight of ammonium hydroxide; Meet CONEG regulation for packaging, with a combined heavy metal total of less than 100 ppm of mercury, lead, cadmium and hexavalent chromium
As the momentum behind the adoption of sustainable packaging and labeling picks up, OMNI will continue to implement eco-friendly materials and processes into the formula, to keep customer's setup for success.